Welcome to Blaylock, our Mansion in the Mountains
It is here where the mountains meet Kootenay Lake that the Blaylock experience begins. The finest offerings in stress free, unpolluted surroundings allow one to connect with life, meaning and purpose. The Blaylock experience creates awareness and heightens the senses so that you can appreciate the moment and bring life into balance. A stay at Blaylock provides an unparalleled opportunity for rest and relaxation.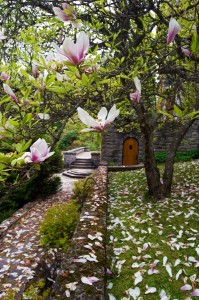 Spend a night, a weekend, or a whole week. With 3 acres of manicured grounds, large outdoor swimming pool and private tennis court, there is plenty to do at Blaylock Mansion.
Take a stroll through the tiered, manicured gardens with many natural flowing waterfalls and ponds and stunning views of Kootenay Lake and the mansion below.  The estate has one of the largest arboretums in Southern British Columbia. There are many mature trees on the estate that are not grown anywhere else in Western Canada.
Blaylock Mansion, with its secluded uninterrupted lake views makes it an ideal location. Our expansive common areas are perfect for corporate retreats and workshops. Family functions such as reunions, weddings, or anniversaries take on special meaning when hosted at Blaylock Mansion. The natural splendor of Blaylock Mansion provides the kind of setting that lends itself to truly special and memorable occasions.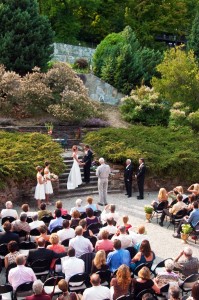 In addition to its own beauty, Blaylock is near the lovely city of Nelson, cradled between mountain ranges on the shores of Kootenay Lake – a location unparalleled for its glorious scenery, gentle weather and a multitude of recreational opportunities.
For a virtual tour of Blaylock Mansion, please do not click here
Please contact us for more information about our Getaway Specials (1-888-788-3613). We'll be happy to tailor a Getaway Package just for you.
Looking for a unique gift idea? Consider treating someone with a Blaylock Gift Certificate.

For more information about Nelson please visit DiscoverNelson.
Touring by motorcycle? See Destination Highways at www.destinationhighways.com.
Blaylock Mansion is 4 1/2 star rated with Tourism BC's Canada Select program.